Pyrotek's "Dr Soundproofing" heals own noise problem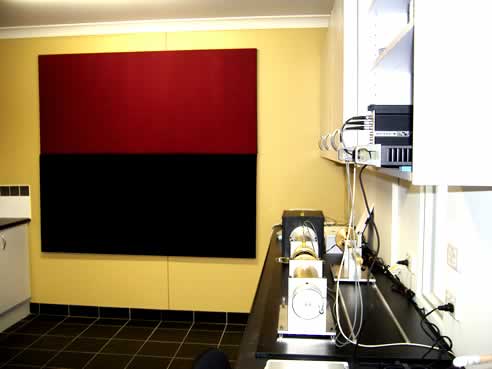 In a "physician heal thyself" scenario, soundproofing "doctors", Pyrotek's Soundguard division, have diagnosed insufferable acoustics in their new Dandenong, Victoria testing laboratory and fixed the condition by prescribing their own "medicine" usually reserved for curing others' noise ailments.
"Sound distortion due to reverberation inside the laboratory was so bad that people on the other end of the lab phone had real difficulty hearing me," Soundguard's Michael Kierzkowski reports.
"In fact, the room had the sound characteristics of a cave; the echoes making any conversation an almost indistinguishable jumble of noise designed to get on your nerves. Certainly it didn't make for a productive working environment.
"The cause, of course, stemmed from having all hard surfaces inside, including tiles on the floor and plaster ceilings."
The solution involved simply making and mounting three large and three small sound absorptive panels on the walls. Made of 25 mm thick Sorbertex 3D Ultrasorb, the panels carry a facing of black and burgundy textured fabric, which not only enhances acoustic performance at low frequencies but also adds an eye-catching decorative feature within the room.
"Amazingly, we found that covering only 10 per cent of the total interior surface area made the world of difference, which illustrates how little cost can be involved in fixing quite big noise problems," Michael points out.
"This subjective impression was backed up when we used a white noise generator inside the room with and without the panels and measured a noise reduction with the panels mounted of 5 to 5.5 dB(A). This is not inconsiderable when you consider the non-linear nature of the decibel scale such that for every 3 dB drop, sound pressure level is halved."
Sorbertex 3D Ultrasorb is a high performance, vertically aligned polyester sound absorber. A durable textile facing is applied for aesthetic appeal. The composite panel has been designed for maximum sound absorption per thickness. Boasting a sound absorption coefficient of up to 1.0, Sorbertex 3D Ultrasorb has served well in acoustics ceiling baffles, automotive trim, recording studios, restaurants, offices, school auditoriums, lecture rooms and cinemas including home theatres.
"Certainly it did the trick for us and at very modest cost. Probably the hardest thing was making up our mind between the literally hundreds of combinations of colour and texture we can supply for the fabric facing, making it a top performing product that also lends itself to creative fine-tuning of interior décor by architectural specifiers," says Michael.
"Like us, there must be hundreds of businesses that put up with the problem of bad acoustics in their premises. If only they knew how easy it is to fix boardrooms, consulting rooms, reception areas, offices, interview rooms, labs and elsewhere that both blessed quiet and aesthetics are important to worker contentment and effective communication, inevitably leading to higher productivity in the workplace."