Pyroteh Deluxe Gas Heating from Real Flame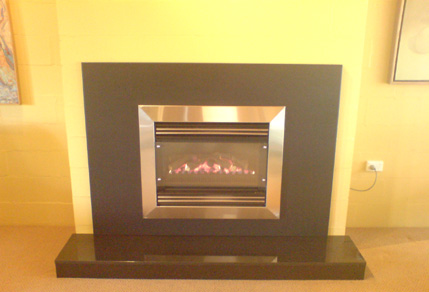 The Pyrotech has long been the flagship product for Real Flame, the Australian leaders in gas fireplace technology and they are proud to announce a new addition to the range, the Pyrotech Deluxe. This incredible fire has all the hallmark looks of the Pyrotech Standard with some outstanding additions!
The new Deluxe model comes with full wireless remote control incorporating a seven day programmable timer with four individual setting per day, modulating thermostatic control, auto two speed fan, electronic ignition and an impressive 4.36 star rating!
Most high efficiency gas log fires that boast 4 or more stars start to lose their flame appeal, not the Pyrotech Deluxe! This fire has an amazing flame pattern which will bring warmth and romance to any environment, whether with traditional logs and coals or the contemporary look of pebbles, this fire will captivate and command your attention.
Available in black or stainless steel finishes, it will enhance any decor and you can enjoy a night by the fire anytime, without 'burning' excess energy.
The New Pyrotech Deluxe joins it's other high efficiency stable mates, the Captiva 600 4.5 star and Captiva 900 4.06 star energy saving fireplaces, released last year.
Climate change and the health of our environment is one of the hottest topics of this century. People are more conscious of the products they use but at the same time still put emphasis on buying a product that look great.
Your home is no exception. Why not install a fantastic, modern fireplace and at the same time know you're being careful about being energy efficient. Real Flame kept this in mind when designing all of their high efficiency fires - a stylish but environmentally friendly choice in gas fireplaces.
What is the benefit of using gas? Gas allows you to have real fire, real fast! It couldn't be made any easier, with a gas fireplace there is 'no' work. No longer will you have to chop or stack wood and the fireplace will not have to be cleaned regularly.
Gas provides instant fire and instant heat once lit. You can alter the temperature simply with a touch of a button. The New Pyrotech Deluxe also has a double glazed front for a full uninterrupted view of your new fireplace.