6 Star Green Star Adelaide Terrace with ZEGO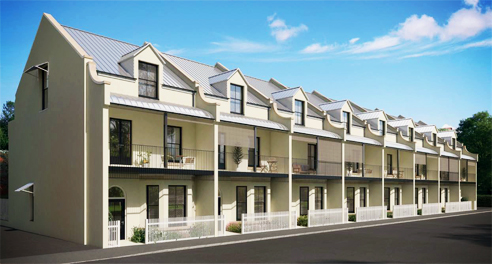 The Princes Terrace Adelaide brings low-carbon lessons learnt in the UK to Australia - and shows why innovative thinking and clever design can create spectacular, sustainable outcomes that stand the test of time.
"The Princes Terrace Adelaide demonstrates that small projects can make big impact when it comes to sustainability," says Romilly Madew, Chief Executive Officer of the Green Building Council of Australia.
"As the first residential project in Australia to achieve a 6-Star Green Star rating, each home within the Princes Terrace Adelaide will use 50 per cent less energy and 50 per cent less potable water than a typical urban dwelling."
A unique partnership
The result of a unique collaboration between HRH Prince Charles' Princes Foundation for Building Community, Princes Charities Australia, Renewal SA and Defence Housing Australia, the Princes Terrace Adelaide demonstrates how accessible low-carbon living can be achieved without compromising quality, affordability or finish.
David Toman, Chief Executive of The Princes Foundation for Building Community, says the project 'brings alive' many of the Foundation's key principles: "The project applies many of the lessons we've learnt from our work in the UK, while evoking the specific heritage of the site, and using local materials to create a harmonious and enduring community."