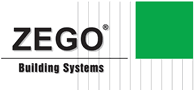 Company Profile
We are proud to be Australia's leading and most established producer of Insulated Concrete Forms.

ZEGO Pty Limited (ZEGO Building Systems) is an 100% Australian owned and manufacturer of Insulated Concrete Forms and formwork wall systems (insulating concrete forms, foam blocks, foam construction blocks, insulated wall panels, EIFS, Z-Board, foam cladding, plastic ReFORM panels, strippable reusable panels) Originating in Germany as "The Original" Magu system, ZEGO have been proudly operating in Australia since 2000.

The ZEGO ICF system is an innovative green building system which is an expanded polystyrene block system designed to cast reinforced concrete, creating an insulated concrete home or building.
ZEGO offers the residential and commercial building sector an alternative wall system which is quick, easy to install, energy efficient and sustainable.
Achieving high energy ratings and insulation properties, ZEGO offers a wall solution saving its clients thousands of dollars in energy (heating and cooling) costs over the lifecycle of the building with near zero greenhouse emissions.
The ZEGO Commercial Fire Form system is also fire rated (fire rating) for party walls and/or Bal or bush fire prone areas.
We supply Australia wide for projects ranging from multi story buildings, commercial duplexes/townhouses, units, resorts, residential single level up to three story, basements, underground car parks, swimming pools, retaining walls, wine cellars, fences, garden walls and more.

If you're looking to build a strong, energy efficient, reinforced concrete home with reduced labour and material handling on site, please feel free to forward your drawings to quotes@zego.com.au for an obligation free quote.

ZEGO
1300 139 346
GPO Box 4774, Sydney, NSW, 2001
* If you would like to update the text on your profile page, please contact Spec-Net.