Aquarena Aquatic Centre, Doncaster, Victoria - "When you're on a good thing..." with Altro Safety Flooring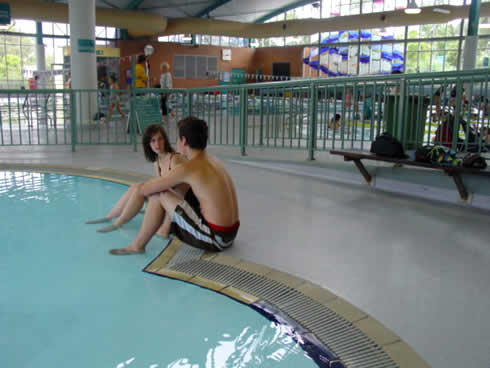 Slips, flips and trips are the bane of backyard pool owners. But imagine how much more of a concern it is for the management of public swimming centres. "Thousands of people visit our centre each year, so the potential for falls and injuries is very high," said Alan Rowe, Operations Director of the Aquarena Aquatic & Leisure Centre in Doncaster.
Aquarena is owned by Manningham City Council and managed by the YMCA, which manages many leisure centres around Australia. "Our customers' safety is top of our priority list, so we actively manage the risks associated with operating in a wet and potentially slippery environment. For example, the pool deck was originally surfaced with a slip-resistant vinyl safety flooring," said Mr Rowe.
"The original safety flooring, Altro T20, was installed well over 14 years ago. And although it has retained its slip resistant properties over that time, and in fact still looked remarkably good after the passage of hundreds of thousands of feet over that period, it came time for an update," he said.
In their search for the most appropriate flooring solution, Mr Rowe and a colleague visited a number of swimming centres in Melbourne and regional Victoria and inspected a wide range of different surfaces. "We saw the full range - from bare concrete to compressed granulated rubber, from ceramic tiles to a few 'home-grown recipes' for increasing slip resistance. This research was very worthwhile, because it confirmed that the Altro T20 vinyl safety flooring we'd been using for all those years serves our purpose and works best for us, from both safety and aesthetics perspectives."
"So when we updated the pool deck we installed Altro T20 again, because we believe it's the best solution for our needs. After all, when you're on a good thing, stick to it," said Mr Rowe.