Music Workshop soundproofs Teaching Studios with Soundguard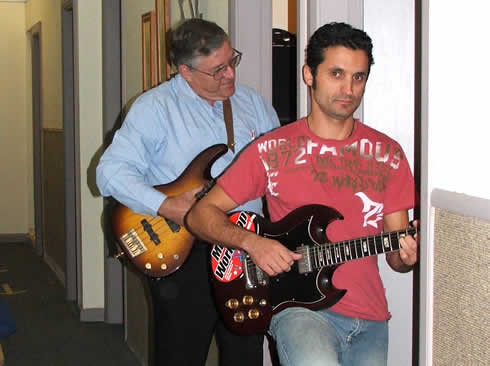 The clash of notes between students outside their studios ceases as soon as they are behind closed doors in their own soundproofed environment
Every student at West Ryde's Music Workshop enjoys his or her lesson free of competing music from students in adjacent studios, due to smart use by proprietor David Korber of advice and soundproofing material from Soundguard.
"We could have seven different lessons going on at the same time in our seven studios: drums, piano, vocals, flute, guitar, bass guitar, sax, oboe, trombone and so on, each conducted little more than two metres away from its neighbours," says David.
"Clearly, our tuition operation would not have been functional without effective soundproofing."
In designing the studios, David did his homework on soundproofing options, including the decision to use an acoustic grade Gyprock for the wall board.
But that was not enough in itself to achieve the acoustic isolation David was seeking.
"We approached several suppliers of acoustic materials and told them what we were looking for. While some said their product possibly would help, Soundguard's David Smart was the only one with the confidence to say his company's Wavebar would indeed meet my demands," says David Korber.
According to Soundguard, confident specifying comes from having hard data on the performance of each of the company's products issued by independent testing authorities such as the National Acoustics Laboratory and CSIRO.
Korber laid the Wavebar between the studs before the wall panels were fixed. Easy to cut and shape, Wavebar has been successful in Sydney's Opera House, Velodrome and in 80 per cent of residential roofs under the Government's SANIP (Sydney Airport Noise Insulation Project) program.
And, in Korber's estimation, Soundguard's confidence has been borne out by the finished result.
"If, for example, there is a piano playing two studios down, you can't hear a thing. You will hear it one studio away very minimally, but not at all once you begin your own lesson. And when, like us, you teach 300 kids a week, every afternoon, every evening and Saturdays, that quality of acoustic isolation is clearly essential."
Wavebar is a barium-loaded composite effective even at lower frequencies at which other acoustic materials perform poorly.
Graphed results of independent tests show that 8 kg Wavebar achieves up to a 24 dB(A) sound transmission loss at 100 to 300 Hz climbing to 45 dB(A) at 5 kHz. Its Rw is 30 and its CAC is 50.
Wavebar is resistant to oils, alkalis and acids and is available in a variant that scores zero in all four fire-resistance and related indices.
Wavebar is only one of many acoustic materials designed by Soundguard to meet special needs, which are listed in a product auto-selector on www.soundguard.com.au enabling specifiers to get instant recommendations for their applications.