Permeable Paved Driveway from StoneSet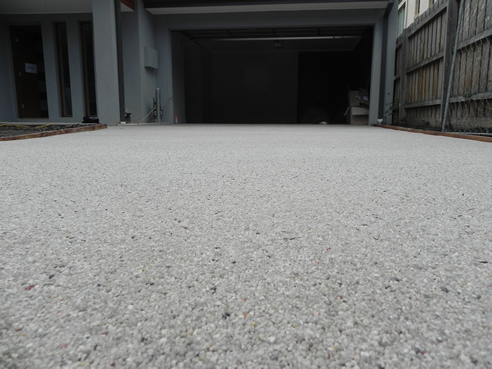 Beauty and Brawn: A StoneSet driveway ticks all the boxes
A StoneSet driveway provides the perfect combination of beautiful paving that is strong, flexible and fully permeable.
A recent job completed in Bentleigh incorporated all of the above to create another successful area of paving. At the new build site there was a tree, which had roots growing under the site where the driveway was to be built. StoneSet were tasked with installing a driveway that would cause no disturbance to the already established tree and allow water to pervade the surface and reach the roots.
All StoneSet products are fully permeable and in this case was used in conjunction with Atlantis gravel cells allowing for a totally porous system where any rainfall would be returned directly to the ground. StoneSet is 100 times more flexible than concrete so is far less likely to crack should there be any movement from the tree's roots. The customer selected a 6mm Bundaberg, which was just the right size to ensure fast permeation rates whilst providing strength for the expected vehicular traffic.
The home now has a fully permeable driveway that will allow any rainwater to flow to the roots of the tree. The StoneSet driveway will be both strong and flexible, allowing the tree movement with little risk of cracking whilst being able to bear the weight of any vehicular traffic.
Beautiful and practical, StoneSet provide the perfect solution.