Amendment C: NASH Standard Residential & Low-rise Steel Framing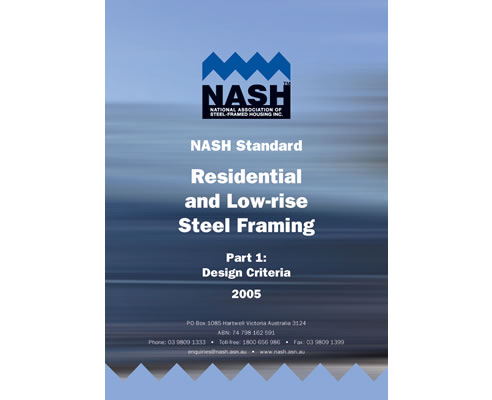 AMENDMENT C: NASH Standard for Residential
and Low-rise Steel Framing, Part 1: Design Criteria
The NASH Standard for Residential and Low-rise Steel Framing, Part 1: Design Criteria is referenced in Volumes 1 and 2 of the Building Code of Australia.
The public review draft of Amendment C of the NASH Standard Part 1 has been released for public comment. The amendment includes:
Clause linking to BCA
Updated reference standards
Updating guidance to latest revision of earthquake code (AS1170.4)
Updating of notes relating to latest version of wind standard (AS/NZS1170.2) particularly Kc for walls and roofs.
Updating guidance on deflection limits for walls and roofs
Advisory note on design requirements for windows and doors.
Major upgrade of testing section to allow the use of the mean test value to calculate the design value from testing. This is an alternative to basing the design value on the minimum test value. Both methods will be acceptable as both methods should give very similar values. So there is no need to reanalyse existing test data unless you choose to. The current method In addition we have provided additional guidance on testing from multiple suppliers
Corrected definition of 's' in appendix B2
Provided typical self weights for PV and solar hot water units
The Amendment is available for downloading and comment from the NASH website www.nash.asn.au
Public comments close on Monday 29th August 2011.
The Standard can be purchased from NASH (see website for details).