Custom Built Cabinets from Artisan Products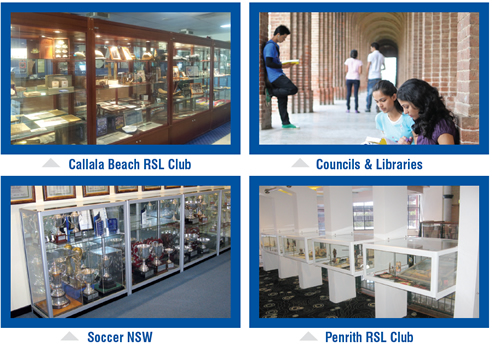 When we say Australian, we mean it. All our cabinets are made right here in Australia for prompt delivery anywhere, Australia-wide.

As you'd expect, we keep strict quality control - ensuring the best craftsman work with the best materials to create unmatched products. All 6.0mm safety glass made in local plants, accredited to ISO 9001 and ISO 14001. All cabinets are custom built offering complete freedom of choice. You are only limited by your imagination. As we custom build, we can create your showcase or display cabinet from aluminium or timber, in any shape, size, colour. You can have mirrors, locks, lighting, signage... we will be more than happy to discuss your needs in detail. Sometimes the solution is as easy (and inexpensive) as adapting an existing Artisan design. At other times you may require a cabinet that's completely custom designed. Either way, you can count on us to provide the most cost-effective options while ensuring the highest quality from Australian craftsmen. The enclosed information will give you plenty of thought -starters. Please feel free to contact us with any queries you may have. Meanwhile, you may care to look at the other side of this page and see some of our projects. We can also supply plenty of references and testimonials. We have supplied to many, many institutions, Australia-wide.