Machinery Noise Solutions from Pyrotek Noise Control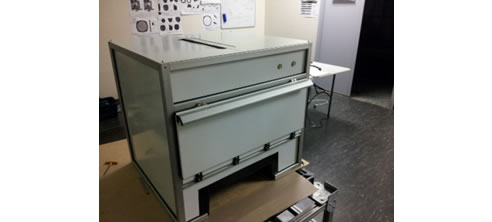 Lights Out - Pyrotek turns off loud noise during manufacturing
Lightforce, based in Adelaide; South Australia, has built a formidable reputation as a global leader in innovative design and excellence in the manufacture of high-performance and durable lighting systems for professionals and sporting enthusiasts.
Based around the framework of ISO 9001:2008 (Australian Quality Standards) Lightforce's manufacturing capability and capacity is agile to enable them to meet the most challenging and ever-changing market demands.
Lightforce use state of the art equipment in their manufacturing process. One of these machines, a 2000X Ultrasonic Plastic Welder, used in the manufacturing process for Lightforce's high visibility lights for night driving, hunting and outdoor activities, was emitting 116 dB(A) during the welding process. This unprecedented level of noise was well above the AS/NSZ 1269.1: 2005 noise emission and exposure standard of 85 dB(A) for an 8-hour period. Research conducted by Serra, Bailey and Jackson (1986:102) displayed in Access Economics (2006) hearing loss report, showed this level of noise to be the equivalent of the noise levels of a road drill at 110 dB(A) and a jet engine at 120 dB(A).
Relocating the machine from an open area to a more confined area within the manufacturing plant further exacerbated the noise issue.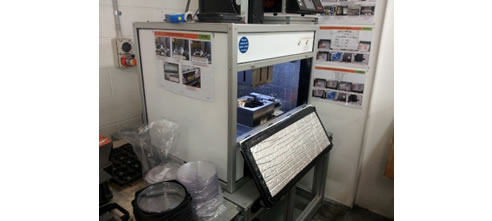 According to the World Health Organisation (WHO) (2004:4), some of the consequences of noise induced hearing loss (NIHL) include:
Impaired communication with co-workers and family
Decreased ability to monitor the work environment (i.e. warning signals and equipment sounds)
Increased injuries from impaired communication and isolation
Lost productivity
Expenses for workers compensation and hearing aids
After initial testing was conducted by Pyrotek branch manager, Rob Thomas, it can be clearly seen that the noise problems are in the frequency range 2000 Hertz (Hz) and above as shown in the graph below. If these high noise levels continued, Lightforce employees would be at risk of NIHL and being subject to some or all of the above-mentioned consequences.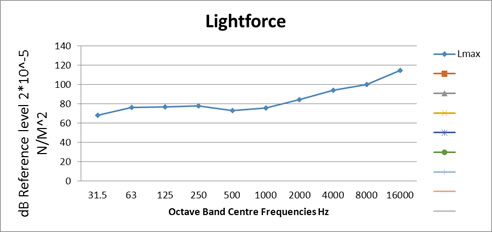 Lightforce wished to customise an aluminium enclosure around the machine. Pyrotek was able to recommend the use of 32mm thick Sorberbarrier 4kg/m2 with an aluminium-facing as a lining for the enclosure.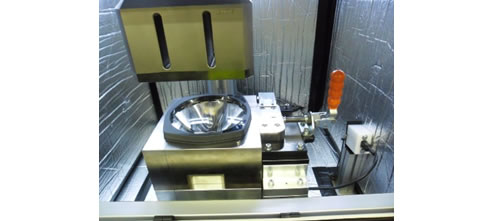 Sorberbarrier was developed to provide a complete noise control solution within one high performance and versatile product. The unique construction of Sorberbarrier comprises two of Pyrotek's flagship products; Wavebar (a high-mass, flexible noise barrier) laminated between two layers of Sorberfoam (flexible acoustic foam) provides a sound absorption layer and a decoupling layer.
Sorberbarrier was chosen due to Pyrotek product test data showing it to be effective at reducing noise levels in the troublesome frequencies as shown in the graph below.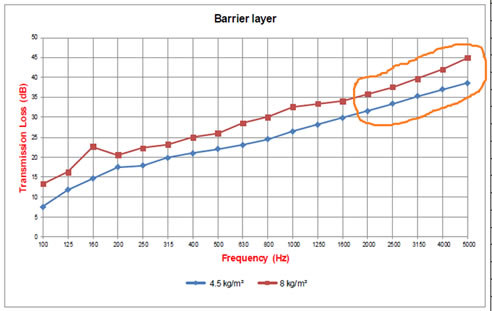 Following the insulation installation, Lightforce was very pleased with the result. Subsequent internal testing by Lightforce showed the Sorberbarrier 32mm 4kg/m2 enclosure had lowered the noise level during machine operation from 116 dB(A) to under 85 dB(A), so it now met standard AS/NZS 1269.1: 2005 for noise emissions and exposure. These lower noise level results eliminated a lot of the risk employees faced in being diagnosed with NIHL.

Reference List
Access Economics, 2006, 'Listen Hear! The Economic Impact and Cost of Hearing Loss in Australia' , Access Economics, retrieved 8 May 2014
Australia/New Zealand Standards, 2005, 'Occupational noise management - Part 1: Measurement and assessment of noise emission and exposure' Australia/New Zealand Standards, retrieved 8 May 2014
Concha-Barrientos M, Campbell-Lendrum D, Steenland K. Occupational noise: assessing the burden of disease from work-related hearing impairment at national and local levels. Geneva, World Health Organization, 2004. (WHO Environmental Burden of Disease Series, No. 9).
Pyrotek Noise Control, 2012, 'Sorberbarrier M Information Page' Pyrotek Noise Control, retrieved 8 May 2014, http://www.pyroteknc.com/download/Sorberbarrier%20M%20425IP_12_12_12.pdf