Noisy Environment Sound Absorption Solutions from Pyrotek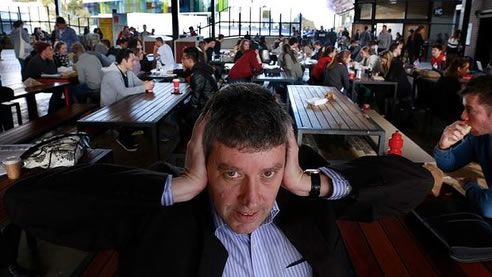 Neapoli Café
Excessive noise is one of the greatest 'bug bears' of restaurant patrons.
Rosyln Grundy co-editor of The Age Good Food Guide 2014 (Cited in Cornish 2013) says: "Noise is a constant source of annoyance to guide users and many ask for 'quiet restaurant' recommendations. We get a lot of feedback from people saying that at some places, they can't hear the conversation at their own table, let alone eavesdrop on the person next to them."
The owners of Melbourne's Neapoli Café wanted to eliminate this problem from their new café, so patrons could enjoy quality food and drinks, whilst conversing in comfortable surrounds.
Unfortunately, the great location that had been purchased was constructed from glass and concrete, materials which sound is able to reverberate off causing a noisy environment.
Sound absorption materials would be necessary to provide the required ambience.
Pyrotek was consulted to provide a soundproofing solution that was able to fit seamlessly into the raw and rustic looks the owners wanted.
After initial testing was completed, it was found that noise reverberation times for the café space were a high 2.9 seconds. This reverberation time was well above the Australian standard for restaurants and cafes of < 1.0 seconds as defined by Standards Australia 2000, pp. 10.
Pyrotek's Reapor Sound Absorber was the perfect product for the project. Reapor is both a sound absorber and vibration dampener. Whilst being primarily made from recycled glass it is non-combustible and has a long product life.
Most importantly, Reapor would fit into the raw and rustic look the owners wanted.
After the installation of 70m2 of Reapor panels to the walls and ceiling of the café reverberation times came down to 0.43 seconds, which fell well within the Australian standards.
The installation of Reapor has greatly enhanced the dining experience for patrons of Neapoli Café and has led to many positive reviews about dining experiences on public blogging sites such as Urbanspoon.
S. Hannigan (online review 2013) posted this review: "I was actually pleasantly surprised. We sat at the bar... it has a good atmosphere without being too noisy (a bug-bear of mine)"
Danielle (online review 2014) posted another positive review: "Great find in CBD location. Cool interior in a quiet location in the heart of the city. I could not fault the food, service or atmosphere. Will definitely be back."
Pyrotek has been able to provide a seamless solution to vanquish the loud noise issues at Neapoli Café, which has been recognised by patrons.
Appendix 1:


1 - Standards Australia 2000, pp.10
Reference List
1. Cornish, R, 2013 , 'Din and dinner: Are our restaurants just too noisy?' , Goodfood, 6th August, retrieved 03/03/2014, http://www.goodfood.com.au/good-food/food-news/din-and-dinner-are-our-restaurants-just-too-noisy-20130805-2r92e.html
2. Standards Australia, 2000, 'Acoustics - Recommended design sound levels and reverberation times for building interiors', Standards Australia, Report, retrieved 03/03/2014