Slip Resistance Additives by Polycure from Mirotone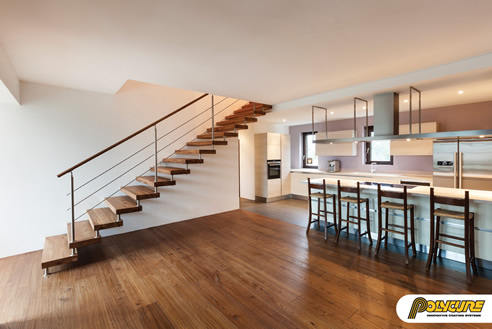 Achieve an R10, R11 or R12 Slip Resistance Rating
with Polycure Slip Resistance Additives
Polycure is pleased to introduce its new range of Slip Resistance additives suitable for use in water based and solvent based coatings.
New slip resistance requirements became effective for stairs in May 2014 for some states. The Building Code of Australia (BCA) introduced 'Deemed to Satisfy' provisions to determine the slip resistance of all treads and nosing of stairways in all building classes and for the pedestrian ramps and landings of Class 2-9 buildings. This includes domestic houses.
A minimum R10 rating is required if the stair tread surface is expected to remain dry, whilst an R11 rating is required if the surface is expected to be wet or become wet at times.
Polycure has tested a full range of coating systems to the Australian Standard AS/NZS 4586:2013 Slip Resistance classification of new pedestrian surface materials - Appendix D (Oil-Wet Ramp Slip Resistance) and is able to recommend both water based and solvent based coating systems to meet the requirements of the BCA.