Gabion construction by Polyfabrics Australia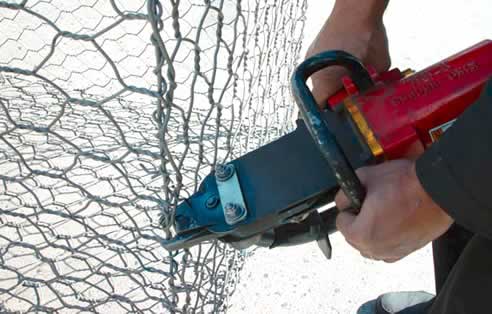 Gabions and mattresses are made of double twisted hexagonal wire mesh and filled with rock. Gabions and mattresses arrive on site as flat as units in bundles.
The walls, dividers, lid and base are expanded and assembled by lacing the loose edges. Lacing can be achieved by either conventionally using lacing wire or using steel rings. Steel rings are fastened using a specialised pneumatic tool - Lacing Tool.
Lacing Tool - used with galvanised or stainless steel rings. Available for hire or sale. Construction methods and site training provided if required.
Applications includes mines roads, road & rail embankments, flood plains & water courses and permanent or temporary works.
Permeable improves flow characteristics, designed for water velocities of 5m/s. Reduces and eliminates expensive drainage systems.
Completed gabions filled with hard durable rock (e.g. Basalt or Granite), with a rock grading between 100mm to max 250mm in size (or max 2/3 depth or mattress).
Using the lacing tool, productivity increases by 60% then using the conventional lacing method.
Proven safe and beneficial to the environment plus it blends with the natural environment.
Units are typically 4 x 1 x 1m units (the most cost-effective size per cu.m). Also available are 2 x 1 x 1m, 4 x 1 x 0.5m, 2 x 1 x 0.5m, and 2 x 0.5 x 0.5m.
Mattress sizes available are 6 x 2m plan x 170mm, 230mm, 300mm deep units.
All gabions and mattresses are heavily galvanised with an optional PVC coating over the heavy galvanised steel wire. Also available in Aluzinco® - Zinc with 5% aluminium for specialised applications.