Expandable Cellular Confinement System from Polyfabrics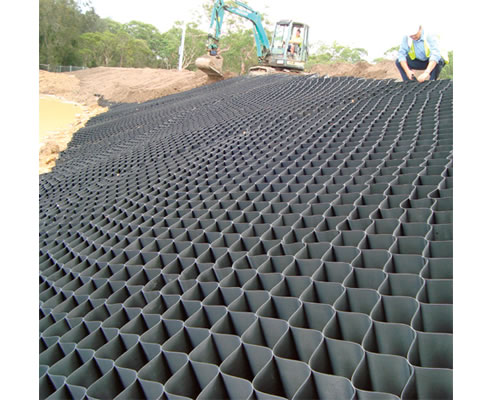 TerraStop™ Geocell is a 3 dimensional expandable cellular confinement system of various depths made from HDPE. It is used to confine various infill's and also to provide stability on slopes and channels.
Once expanded to its maximum extension and filled in with soil, the structure becomes inextensible and monolithic, providing an effective means of confinement for unconsolidated materials lying within single cells and preventing their movement even on steep slopes, or also from substantial dragging forces such as those exerted by hydraulic currents.
The cellular structure is therefore particularly useful on arid, rocky or impermeable soils where vegetation is almost or totally lacking.
By utilizing TERRASTOP™ Geocells, it's possible to confine on steep slopes a topsoil layer (up to 200 mm) allowing planting of the escarpment with high degree of confidence and success.