Overlay Old Blocks Project from StoneSet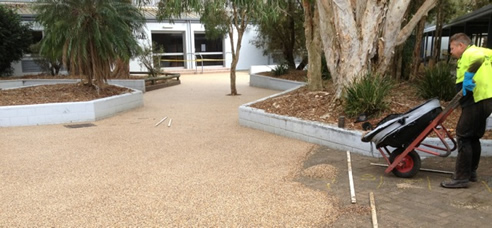 StoneSet was recently used to complete the installation of paving at a Queensland school looking to reuse the existing block paving as a base.

This method is ideal for stable, but old and tired looking surfaces. Not only is it reusing the existing area, so eliminating any landfill created by the project, it also means the StoneSet can be laid directly over, at minimal depth with practically no preparation. This is not only environmentally sound, but a cost and time effective solution. The area of over 400m2 took just two days to install and was specified as the school were so happy with an area completed earlier in the year and as it was completed in the school holidays there was no disruption to the students. Sandy Ebert, Business Services Manager at the school, was very impressed with the product and particuarly pleased with the ease of working with all our staff - always music to our ears.

Sandy emailed to tell us "I have received a large number of comments from teaching staff about the great look of this job, the students are also very impressed with the new look. It has addressed a lot of our workplace health & safety issues where previously there were uneven pavers and deteriorated timber sleepers. The area is now uniform and the unsightly entrance and ramp previously painted a dark green gives a more welcoming and presentable entrance for public presentation nights and cultural events attended by parents and the local community." The material used was a 6mm Tan and Cream blend which brightens up the area and leaves a natural looking finish in line with the surrounding vegetation.