Window Film for Glare Reduction from Sunscreen Window Tinting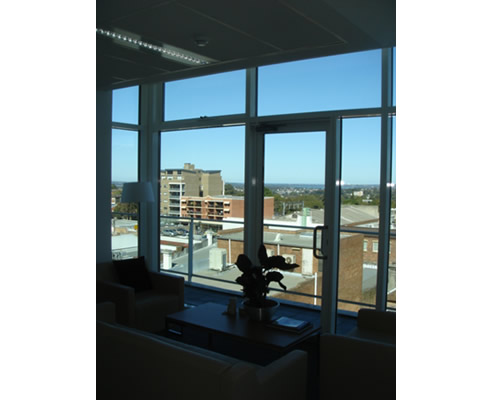 Sunscreen Window Tinting Provide Solution for unbearable Glare Problem Using 3M™Window Films

A higher standard for glare reduction. PROBLEM: The customer approached Sunscreen with two major issues. Firstly they wanted a film that would let enough natural light in, but reduce the amount of excessive light that was causing added eyestrain from glare reflecting off their computer screens. Secondly they wanted to protect the staff, and preserve the furnishings, fabrics, carpets, and artwork from the damaging UV rays of the sun. The glass in the building was double glazed. The building manager questioned if Sunscreen could provide such a film that could be applied to the inside of the existing glass and not add a dangerous amount of thermal stress, which could lead to glass breakage, as the main reason for the tint was to reduce glare and UV without having to replace all of the glass. SOLUTION: 3M™Colour Stable CS20 Black Automotive Film: 52% Solar Energy Rejection, 82% Glare Reduction & 99% U.V. Protection. The area of concern was south facing, so heat wasn't an issue. Sunscreen recommended using 3M™Colour Stable CS20, a non metalized carbon based film. Colour stable meaning it won't fade, turn purple and lose its' effect over time. In addition to blocking 82% Glare other benefits included 52% Solar Energy, & 99% U.V. Protection of the sun's damaging UV rays to protect staff and the interior of the building. RESULTS: Since installing the 3M™Colour Stable CS20 window film, it has substantially reduced the effects of eye strain on the workers by reducing substantial amounts of glare, increased safety and their personal health, protected furnishings from damaging ultra violets rays & reduced heat up to 56% in return, saving on energy costs. Since the application, the staff and owners of the company, have reassurance with the added protection for their eyesight and preserving the building's furnishings. BENEFITS:
Reduced glare on computer screens
South facing, heat wasn't an issue
UV protection for staff & fading interior chattels
More economical than using blinds
Automotive film was a good choice in this case on double glazed unit with float & toughened outer panel, low thermal heat stress on glass/south facing
Why Choose Sunscreen's 3M Prestige Window Films? When it comes to protecting your home or office, you want to deal with a company you can trust and products you can trust. No one has more experience with window film. In 1966, 3M received the first patent for window film and they continue to invent new ways to make your life brighter. Today there are millions of square meters of 3M Window Films installed all around the world. Other advantages of Sunscreen's 3M™Prestige Window Films. Increased comfort and energy savings:
On a warm day, the sun shining through your windows can drastically increase the warmth of a room. Not only do you become more uncomfortable, all that heat is costing you money when your air conditioner tries to keep up. By rejecting up to 79% of the sun's heat, our film can significantly reduce your energy bill. Protecting your family's health:
Ultraviolet rays are the primary cause of skin cancer. By blocking up to 99.98% of the sun's UV rays, our films help protect your family. Backed by 3M:
Sunscreen Pty Ltd has been operating for over 30 years in the field of Window Films, and during this time our staff have been trained in the latest methods of application by 3M. We do not use contract labour and therefore you can be assured of professional work at all times. We have one of the most comprehensive commercial warranties you can get, should your window film need replacing.


1800 720 876
Level 9, 3 Nexus Court, Mulgrave VIC 3170