Building Code Compliance with Unison Joints' Architectural Floor Seismic Joints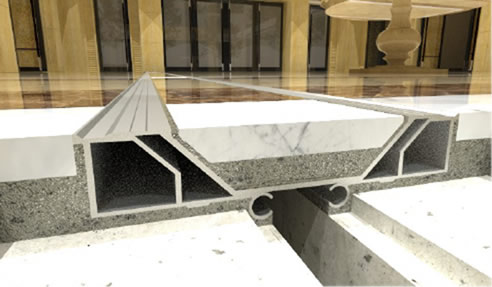 SeiMax G
When choosing joints, the difference between architectural floor seismic joints and mechanical floor expansion joint systems is significant. Expansion joint systems, mostly have single-phase movement... where the system opens and closes during normal thermal, shrinkage and wind movement. Seismic floor systems mostly have this same phase of movement; but they have another, seismic phase; which causes the cover (or 'pan') to rise up and over the surrounding floor finish during an earthquake. These systems are often quite large and therefore architecturally designed to hide their size. This is often in the form of housing the floor finish in a 'pan' shaped coverplate.
The design of architectural floor seismic joints is often complex. It demands undivided attention and clear focus from all designers and builders to ensure the proper sizing, sealing, safety, fire protection and provision of movement for all architectural floor seismic joints.
SeiMax Architectural Floor Seismic Joints from Unison Joints
With a service record of 17 years, Unison Joints remains the go-to company for architectural floor seismic joints, expansion joints and cover plate systems. The innovators in expansion and seismic joint designs, Unison manufactures and supplies high-quality systems throughout Australia and the Middle East.
The team of experts at Unison Joints has come up with an innovative design that addresses both functionality and aesthetics - the SeiMax G (Si G) seismic joints from Unison Joints' new SeiMax range!