Soundguard stops the music for the Sydney Dance Company's neighbours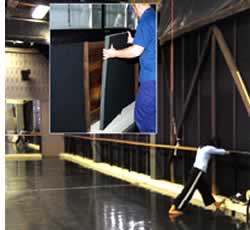 Australian acoustic materials specialist, Soundguard has proven wrong the Village People's "you can't stop the music" by solving a problem serious enough to threaten the future of the Sydney Dance Company at Pier 4, Walsh Bay.
The trouble was that thin single-skin timber walls of the old pier building offered next to no barrier to the strains of jazz, funk, hip-hop and salsa coming from over 60 dance lessons a week in four studios reaching other nearby Walsh Bay pier-dwellers as late as 10:15 at night.
Determined to end complaints from their residential neighbours on Pier 5, Sydney Dance Company turned to acoustic consultants, Challis Consulting, whose strategy included the specification of two of Soundguard's products, Soundsorber 50TX and Soundsorber Barrier 57TX.
Comprising a 50 mm layer of acoustic foam, Soundsorber 50TX was used on the inner walls of the studios to absorb sound that would otherwise bounce back towards the outer walls, adding to the acoustic load there.
On the outer walls, Soundsorber Barrier 57TX was used, its absorbing foam layer facing into the space with its extra layer of 4.5 kg/m² loaded vinyl proving an effective barrier to noise, even at the more persistent lower frequencies.
As the TX in the product names suggests, both products were faced with a textile to lift the aesthetic appeal of essentially bare timber walls. This it has achieved even though the undressed inner edges of the building frame timbers have been left exposed.
With a carpet-like texture, the Vertiface material used by Soundguard for their TX branded products is a polyester that resists stains, is not absorbent or toxic and is UV stabilised to provide resistance to colour fade, making it popular for noise control in offices, professional rooms and studios.
Black was chosen for Sydney Dance Company from among the great variety of colours available in Soundguard's textile-faced acoustic materials.
Some 300 square metres of the two materials used were expertly installed by Peace Engineering to treat the four studios, which range in size up to 12 by 8 metres with 5 metre high ceilings.
Since the installation, reportedly not a single complaint has come back across the water to Sydney Dance Company from the neighbouring residential pier just 100 metres away; proving that Soundguard can indeed stop the music needed by some from reaching where it's not welcomed by others.