Plexideck Acrylotex Surfaces from Court Craft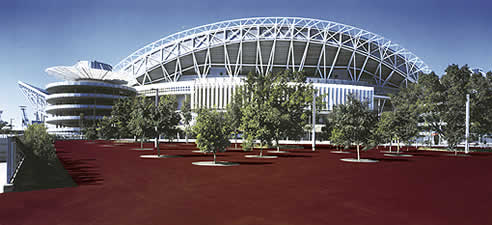 Plexideck Acrylotex Surfaces from Court Craft
Plexideck (Also know as Acrylotex in the USA) is a hard wearing acrylic surface coating designed specifically for pedestrian areas.
Available in a range of colours, the texturised surface not only looks good, but can also improve traction in slippery areas for pedestrians.
Installed across the state in a number of locations, some of Plexideck's higher profile applications include the Urban Forest around what is now knownas ANZ Stadium and the recently installed surface to the walkway at the Sydney International Airport. The Plexideck installation around ANZ Stadium hasbeen in place for some time, and despite the punishment of millions of feet since it was completed the surface continues to perform.