Earthworks for New Sport Facilities Sydney from Court Craft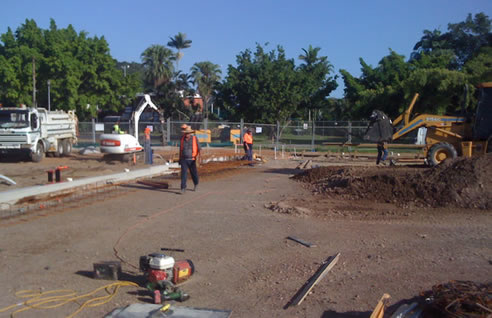 Earthworks is arguably the most crucial component in the construction of any new sports facility.
It is crucial that a professional and experienced contractor who is familiar with the specific requirements of sports facility is used to undertake this type of work.
The proposed site should be cleared of all obstructions. It is then stripped of any deleterious or organic material, topsoil and roots beneath the proposed court.
Any inappropriate material below the design levels should also be removed and replaced with imported materials such as crushed sandstone, road base or other suitable products that will allow high levels of compaction.
The base should then be rolled with a heavy roller and compacted to ensure future subsidence can be avoided. It is possible on some sites that geotechnical testing will be required to ensure adequate compaction.
Court Craft also hire on an hourly basis our excavators and bobcats complete with a driver. Please contact us for more information.