Synthetic Grass Sydney from Court Craft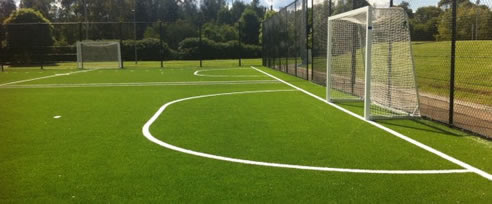 Synthetic grass is highly versatile and is able to be installed for many different applications.
Here at Court Craft, we are able to design and construct synthetic bowls greens, cricket wickets, hockey fields, sports courts and general landscape purposes.
Our synthetic grass is a favourite tennis surface used in NSW, and Court Craft have been installing courts for over 20 years.
There are several keys to the popularity of synthetic grass courts. Firstly, there is the aesthetic appeal. Synthetic grass looks similar to natural grass courts of the past and blend in well with the surrounding environment.
It is also a surface that is kind to the body. Synthetic grass is softer to play on than other tennis surfaces. Synthetic grass requires less maintenance that natural grass courts. There is no mowing or continuous line marking needed, but do remember that these courts do require grooming every few weeks and a major service every 18-24 months.
Court Craft constantly searches for the latest developments in synthetic grass technology to bring you the latest advancements.
Court Craft has its own highly experienced, in-house team of installers. This gives us the ability to closely monitor our quality of workmanship and ensures that 'the buck stops with us'.
Court Craft can advise of surface combinations suitable for you and your location be it domestic, club, council or school.
Court Craft only supply synthetic grass surfaces backed by companies with proven experience in the industry and with comprehensive manufacturers warranties to protect our customers.