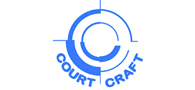 Company Profile
Court Craft was formed in 1977 and was taken over by the present management in 1986. Court Craft builds a wide variety of sporting installations both indoor and outdoor plus general outdoor environments. This includes installations such as hockey fields, tennis courts, school ground constructions, netball courts, basketball courts, soccer fields, bowls greens, sport fields, cricket pitches, golf, playgrounds, volleyball courts, badminton courts. Court Craft carries out all aspects of a project from planning, Council submissions, construction of facilities, clubhouses and amenities, lighting systems, landscaping etc.

Court Craft is run on a philosophy of service to all our clients. We have a highly competent and well trained work force. Our senior management, both site and administration, have many years of experience in the construction of sporting facilities. Coupled with the careful selection of suppliers it allows us to maintain a consistent, professional standard of construction and surfacing on all projects. Our Plexipave Netball Surface is installed at the headquarter courts at Auburn for Netball NSW and our Plexipave tennis Surface was selected as the national tennis surface and is installed at Melbourne Park for the Australian Open. We have also installed it at the Sydney Olympic Park Tennis Centre Homebush the Home of the Apia International. Court Craft has a variety of clients including Universities, Colleges, Schools Councils, Sporting Associations, Commercial and private clients. Court Craft's client acceptance has allowed us to develop into one of the larger court builders in Australia installing over 3,000 courts.


Court Craft Aust Pty Ltd
02 9763 2900
55 Loftus St, Riverstone, NSW, 2765
* If you would like to update the text on your profile page, please contact Spec-Net.