Plexicushion Tennis Court Surface from Court Craft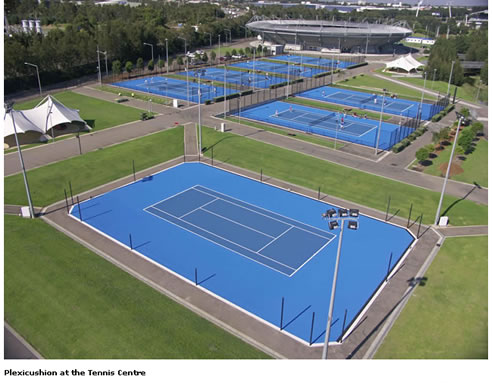 The Plexicushion substrate, a special blend of latex, rubber, and plastic particles,forms a resilient layer that absorbs body shock and reduces muscle fatigue.The 100% acrylic Plexipave surface provides consistent and uniform bounce, long-lastingcolour, and allows speed of play specification.
Increases health and longevity for players of all ages
Adjustable level of cushioning
Leading UV formulation protects pigmentation against colour fading
Manufactured with post-industrial recycled materials
Can be customised to all ITF Pace Ratings
The Plexicushion System combines the consistent bounce, sure footing, and outstanding durability of Plexipave with the innovative shock-absorbingproperties of EPDM Rubber cushioning. The result is a surface that dynamically responds to body impact and reduces fatigue on players' legs,knees, ankles, and feet. The multi-layered resiliency lengthens the biomechanical life of players of all ages, from juniors who are just starting to playcompetitively, to seniors who are enjoying the game in their later years.