Commercial Grade Kitchen Flooring from Altro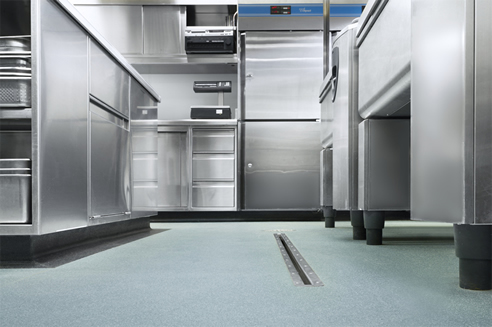 How safe is your kitchen floor?
Across the world safety flooring is tested in various ways. You might have heard of the Pendulum Test, which mimics a shod foot slipping across a floor, resulting in a measurement of slip potential. Wet flooring that measures ≥36, which translates to a one in a million chance of slipping, has a low slip risk and all of our safety flooring exceeds this. The contaminant used for this test is water and, in most areas, this is the most common contaminant, making the test accurate and reliable. However, this is definitely not the case for kitchens.
Commercial kitchens can be a dangerous place. Contaminants range from greasy water, milk and oil to food particles and flour. Staff tend to be very busy and it's often not possible to clean as they go. It's not simply spillages either; hot oil evaporates into the air, cools and settles on the floor, making it hard to see and a constant hazard. The contaminants found in a kitchen are often more dense than water or, in the case of food particles, dry rather than wet. This prevents the foot making contact with the floor and increases the risk of slipping.
A commonly used safety floor that performs well in a standard Pendulum or Ramp Test, may not live up to standards when it comes to a real working kitchen with varied contaminants, putting staff at risk.
The Ramp Test results in R9-R13 values which are based on the angle at which a person slips while walking on a motor-oil covered ramp. We quote R values for our products because some of our customers are used to working with them but we don't believe this test gives a clear enough indication of slip resistance. Starting at a high number, an R9 value appears as though it offers good slip resistance but it actually indicates the least slip resistance. In short, it's confusing. For more information on testing please visit our testing and measuring section.