Silicate Based Paint System for Hospitals from Keim Mineral Paints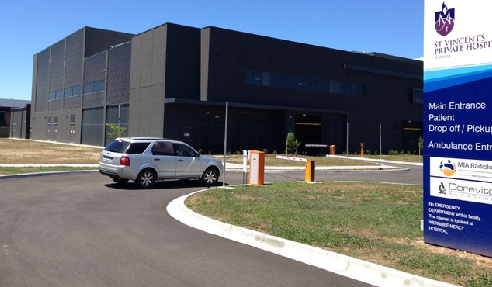 Project: St Vincents Private Hospital Werribee. Architect: HSPC Health Architects. Builder: ADCO Construction. Applicator: Western Painting. Product: Keim Royalan. Colour: Colorbond Monument and Interpon Sable.
Keim Royalan is a mineral silicate based paint system developed to withstand harsh climatic conditions, ideally suited for use in exposed locations and those subject to continual pollutants and contaminants.
The crystalline nature of Keim Royalan allows vapour to pass freely through the coating from the substrate whilst at the same time protecting against the ingress of moisture, giving up to 96% breathability after coating, eliminating blistering, cracking or peeling associated with conventional paints.
Specifically developed for harsh climates
Highly resistant to weathering
Environmentally friendly
Breathable, water repellent and water vapour permeable
Increases light reflectivity
Lightfast mineral matt colours
Resistant to airborne pollutants and acid rain
Inherently incombustible
Extreme long life
Resistant to fungal and algae growth
For more information, visit www.keim.com.au.
1300 764 644
Unit 10, 17-21 Bowden Street, Alexandria, NSW, 2015