Sunscreen Introduces NEW 3M Prestige Window Films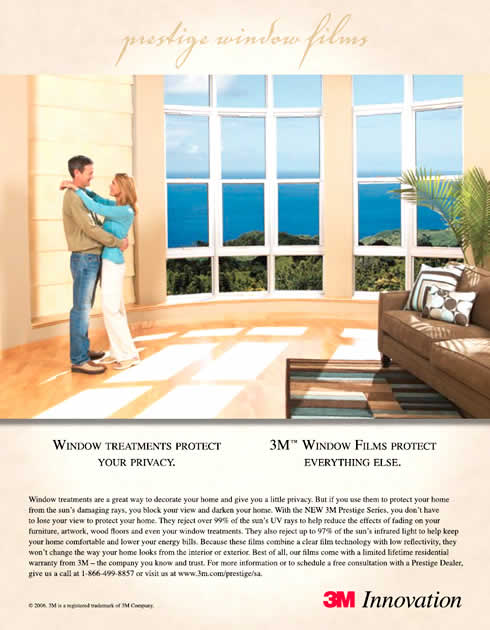 Sunscreen has recently announced the introduction of an innovative new line of window film products called the 3M Prestige Series.
The new films are the first clear and non-metal based window films to significantly reduce heat and UV rays entering a home or building. 3M Australia is backing the new 3M Prestige Series with a limited lifetime Residential Warranty and an unprecedented 15-year Commercial Warranty.
The 3M Prestige Series offers a range of benefits suitable for both Residential and Commercial property owners. For properties near the coast or in humid areas, the absence of metal in these new films prevents against corrosion on the film - a serious issue for other clear, metal-based window films. In addition, the 3M Prestige Series does not interfere with wireless and cellular signals, which can occur with other metallic window films.
The 3M Prestige Series marks a significant technological advancement in how window films can enhance buildings and homes. Residential and Commercial property owners now have a high performance clear or lightly-tinted window film that combines all the benefits of heavily-tinted or reflective films without the inherent drawbacks of darkened rooms or mirrored windows.
Window films in the new 3M Prestige Series actually have less reflectivity than the glass they cover, so the appearance of your home or building is virtually unchanged.
In Summer months and warmer climates, the 3M Prestige Series blocks up to 66% of heat penetrating the window, resulting in less stress on air-conditioning systems and lower overall energy costs.
Over periods of time, UV rays, solar heat and visible light can irreversibly fade fabric and upholstery on couches, chairs, oriental rugs and other valuable items inside a home such as wallpaper and natural wood floors. 3M Prestige Series films are designed to reduce the effects of solar heat and visible light on furnishings and will block up to 99.9% of the sun's harmful UV rays, which are the single largest contributor to fading. While no film can stop fading completely, these films dramatically slow the progress of fading to keep furnishings looking beautiful.
3M Prestige Series window films are available in clear or tinted versions through Sunscreen.