SymFix is a new and improved method of fixing Symonite aluminium composite panels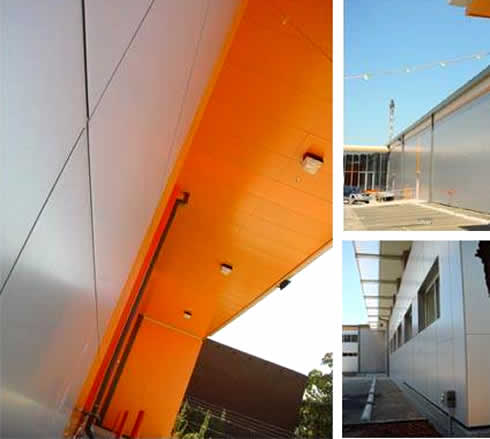 The system is Australian owned and manufactured, and provides a secure fix to the perimeter of each panel.
The concealed lightweight aluminium frame slots into a computer routed groove, providing a clean, crisp joint line, whilst eliminating the need for exposed silicone sealants.
Design flexibility is ensured through a variety of aluminium extrusions, specifically developed to meet detailing requirements, whilst eliminating the additional costs associated with folded panels.
The Symonite composite panel is lightweight, and provides high impact and fire resistance due to its unique phenolic resin core. The panel is supplied with a durable and long lasting PVDF paint finish.
The CSIRO Division of Building, Construction and Engineering has extensively tested the SymFix system. Excellent test results have been achieved with regard to weather performance, structural loading and fire resistance, in compliance with Australian standards and codes.
SymFix provides a fast, cost effective design solution for the external cladding or internal lining of your next project.