The Unitronic 3 lift by Liftronic - Machine roomless lift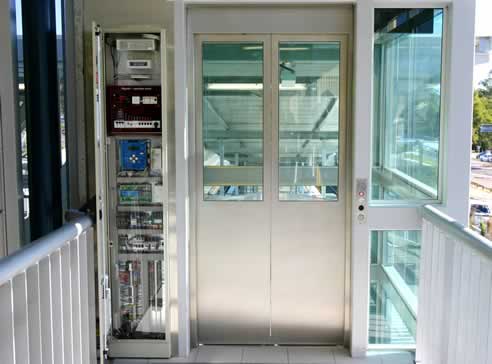 Conventional lifts have always required a Lift Machine Room to accommodate the lift machine, controller, circuit breaker panel and other associated equipment. The Machine RoomLess concept changes that thinking and utilises the area within the lift shaft to house the machinery and therefore making the purpose built, Lift Machine Room redundant. The owner, the builder and the eventual user of the lift system, all benefit by way of:-
Reduced overall building costs.
No more unsightly Lift Machine Rooms sitting on top of the building or in the basement - which of course provides a greater scope for additional rentable area or car parking spaces etc.
Because the building structure does not require a Lift Machine Room, the completed lift shaft is ready for contractor handover earlier, resulting in a more timely completion of the lift installation.
Liftronic's flexible range of Unitronic 3 Gearless Machine RoomLess, Traction Lifts are available with loads of up to 2400 Kg and speeds of 1.0 or 1.6 mps.
The Unitronic 3 is suitable for all low and medium rise applications and has been installed in offices, home units, hotels, airports and many forms of public transport stations.
The lift car size has design flexibility and is ideally suited to provide the maximum floor space possible when shaft sizes are fixed, due of building constraints or modernisation applications.
The car finishes and appointments may be selected from a wide range of pre-engineered products. Alternatively, architecturally designed finishes incorporating glass, stone or other fire rated materials, are easily accommodated. All final car weights are subject to Engineering approval.