Sound Proofing at Silverdale Rifle Range from Pyrotek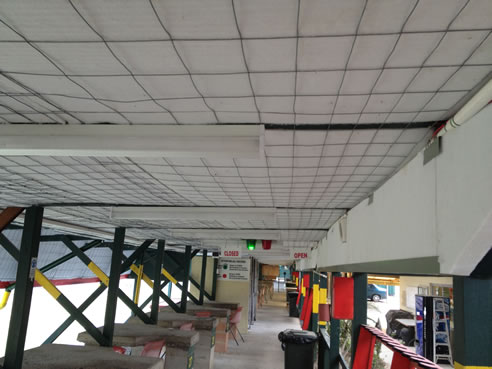 Problem areas: concrete floors and poorly treated ceiling in shooting bays which added to existing noise source through reflections.
Solution: add absorption to ceiling to absorb reflected noise from rifles.
Completion: The result was so good that standing 2 meters behind the shooter cause a noticeable reduction.
Rifle ranges obviously generate noise. At the Silverdale Rifle Range, noise generated by rifles intruded into the nearby recreation area, and administration building, disturbing workers in that area.
The noise peaks consist of both direct noise and reflected noise. Direct noise is generated by rifle shots in a line of sight to the building. This noise is then reflected by the shooting bay's poorly treated ceiling and bare concrete floor. Reflected noise adds energy to the direct noise and increases the noise levels in the bays and nearby buildings.
Pyrotek was commissioned to use their expertise to reduce the noise levels. It was recommended to install absorptive product to reflective surfaces; the shooting bay ceiling and exposed corrugated wall of the recreation room.
Sorberpoly 2D acoustic insulation is a fine fibre, non-woven polyester useful in high humidity applications. It is resistant to fuel, oil and grease and is non-wicking - ideal for this application.
To confirm that installing Sorberpoly 2D made a genuine difference to noise levels, a number of sound measurement locations were identified. Noise levels were measured during rifle fire before and after installation. When measuring noise in the reception area, two sets of rifles were fired to create a louder noise source.
| Measurement Point | Noise Source | Before treatment C-weighted Peak Value (dB) | After treatment C-weighted Peak Value (dB) |
| --- | --- | --- | --- |
| Inside Lunch Room | Shooting bay 25 | 116.1 | 92.25 (average) |
| Direct Line of sight, 4 metres from shooting bay 25 | Shooting bay 25 | 143.4 | 132.05 (average) |
| Reception Area with all doors and windows closed | Shooting bay 25 | 112.6 | 94.0 |
| Direct Line of sight 4 metres, from shooting bay 2 | Shooting bay 2 | 137.0 | 135.0 |
| Inside recreational area, 2 meters from the window | Shooting bay 2 | 96.0 | 92.8 (average) |
The noise levels were measured as peak measurements with a C weighting. Peak measurements measure, in decibels, the sound pressure level with the most energy at an instantaneous point in the measurement timeline.
After installing Sorberpoly 2D the reduction in noise was immediately obvious, even with hearing protection. As the rifles were being shot, the peaks at higher frequencies have been flattened to provide a muffled noise, producing a much quieter environment in the administration building. The ringing of shots in the shooting bays also reduced.
The noise energy created by rifle shots is absorbed by Sorberpoly 2D instead of being reflected off the walls. Sorberpoly 2D has provided an excellent reduction in noise levels with the administrative building, with additional benefits in the shooting bays and other areas.
Products supplied by: Pyrotek Pty Ltd
Products Installed by: Complete Roofing Pty Ltd