Pour On Gravel Binder Northern Territory from StoneSet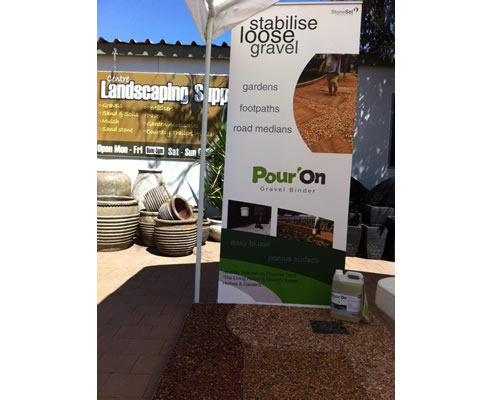 Landscaping the Northern Territory
StoneSet recently attended the annual open day at Centre Landscaping and Supplies in Alice Springs to help promote Pour On Gravel Binder from the Territory's only retail outlet.
The annual open day is a chance for the family run Centre Landscaping store to showcase their range of products and put some of their suppliers in front of the customers to answer any questions.
Local radio Sun 969 were involved too and with the traditional sausage sizzle it was an enjoyable day at the Landscape yard on the Ross Highway.
StoneSet supply Pour On Gravel Binder nationwide from our Sydney HQ, we do have a number of stockists around the country and are looking to grow this for our customers' convenience.
For more information visit www.pouron.com.au