HIA GreenSmart Winners and the Prince's Terrace by ZEGO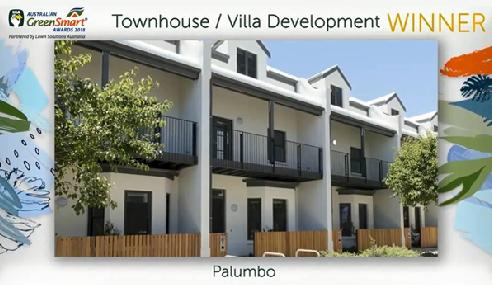 South Australia builder wins Australian sustainable housing award
South Australia's Palumbo won HIA Australian GreenSmart Townhouse/Villa Development at the 2018 Housing Industry Association (HIA) Australian GreenSmart Awards announced today.
HIA Australian GreenSmart Awards are partnered by Lawn Solutions Australia and recognise the best in environmentally-responsible housing. Award winners and finalists make a positive difference to the environment by building sustainable, energy efficient and comfortable homes.
All twelve homes in the Prince's Terrace townhouse development are comfortable for the occupants with cross-ventilation, awnings and good solar orientation. Light and air-filled stair voids act as an escape route for hot air and internal vents can be closed off depending on climate conditions.
"The Prince's Terraces is a fantastic example which demonstrates how GreenSmartcan be achieved at scale," commented the award's judges.
This project demonstrates that low carbon living and sustainable practices in construction can work on a larger scale in Australia.
Winners from all around Australia were recognised for their contribution to sustainable building practices and products.
In congratulating the winners, HIA Managing Director Graham Wolfe said HIA Australian GreenSmart Awards represent the latest in environmental design and building practices.
"HIA Australian GreenSmart Award winners and finalists are leading the way in sustainable building practices, including site management and energy saving techniques, to build comfortable homes for their clients," Mr Wolfe said.
"The awards recognise HIA members building and designing greener and more livable homes."
The HIA GreenSmart program began almost 20 years ago and is a voluntary initiative available to HIA members. Award winners were announced today on GreenSmart Awards.