Sun Control Window Tinting with Window Film from Sunscreen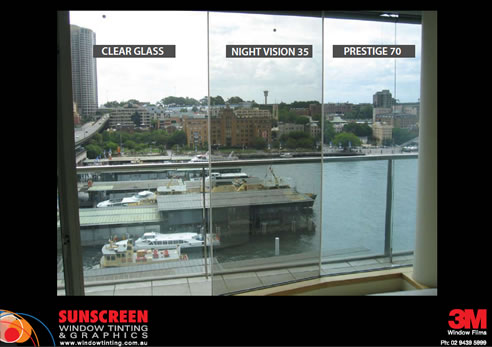 Sunscreen Window Tinting Applies a Clearly Superior Window Film with a Clearly Superior Performance using 3M™ Prestige Window Film.
Case Study - 3M Prestige PR70 Window film. The latest technology in the 3M Sun Control film range - A 'clear' heat, glare and fade control solution metallic films can't match.
A building manager of an apartment in Sydney's CBD approached Sunscreen with a patchwork of problems. It is often seen in residential and also commercial building apartments governed by strict strata guidelines and body corporate rulings.
Problem: Many Tennant's of apartment buildings especially on upper levels have problems with the amount of heat radiating through the glass throughout the day, especially in the summer months. Very quickly the building can look aesthetically unpleasing to the eye from the outside, when each occupant hangs different coloured drapes or blinds or applies different brands, strengths, shades or colours of window film.
Solution: Sunscreen's 3M Prestige PR70 Solar Control Window film is a superior solution to reducing heat, glare, ultraviolet rays, prevent fading & reduce energy costs, in one film, without looking like there is a film on the glass. This way if some apartments require the film and others don't the outside of the building will still remain uniform. Traditional window films are either dark dyed films which fade & turn purple or highly reflective mirrored films that change the external appearance of the building giving a 'patchwork' effect if some areas are tinted and other areas not.
3M Prestige PR70 film was the obvious choice as it uses innovative Multi-layer Optical Film technology, to provide a window film product with a clear appearance and a host of advantages. Enhanced on angle performance, high IR reduction, superior clarity, along with no chance of corrosion and no signal interference are among the benefits. 3M Prestige PR70 film gives low reflectivity along with an optimized balance of performance and natural light. While essentially not changing the external appearance of the building, it reduces 97% of Infrared Heat which accounts for 50% of all heat, 23% of glare and 99.98% of UV rays.
The 3M Prestige Series marks a significant technological advancement in how window films can enhance buildings and homes. Residential and commercial property owners now have a high performance clear window film that combines all the benefits of heavily-tinted or reflective films, without the inherent drawbacks of darkened rooms or mirrored windows. Prestige films actually have 1% higher reflectivity than the glass they cover, so the appearance of your building is virtually unchanged.
Results: Sunscreen performed the installation (10 windows) in a way which resulted in virtually no disruption to the owner in a straight-forward and trouble free installation within one working day. The results were immediately noticeable .With the air conditioning running at a lower level, the savings in energy costs in summer would be genuinely substantial.
For more information please contact the team at Sunscreen or visit the website www.windowtinting.com.au
Benefits:
Avoid heavy window coverings
Great heat rejection provides energy savings and improved comfort
A warm natural hue invites warmth and beauty to any room
Protects skin and extends the life of furnishings by significantly reducing UV rays, the largest cause of fading
Low interior and exterior reflectivity, enjoying clearer views
New 3M nano-technology enhances colour stability
Reduces glare and eye discomfort
Comprehensive 3M manufacturer's warranty
Increases personal safety from flying glass
Superior scratch resistant coating
Glass appearance is virtually unchanged once the film is applied