Workplace Acoustic Panels from Supawood Architectural Lining Systems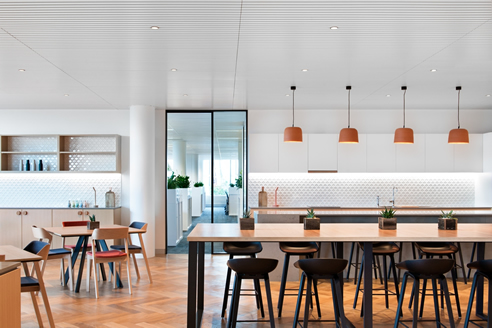 Futurespace's homely & collaborative workspace for Richard Crookes.
SUPAWOOD's SUPASLAT slatted acoustic ceiling panels have helped to create a homely atmosphere in the fit-out of Richard Crookes Constructions' (RCC) new collaborative workplace in Artarmon NSW.
RCC, a family-owned construction company, commissioned interior designers Futurespace to create an open, informal holistic work environment to reflect their strong family values and offer a sense of home. To speak to these values, the designers looked for honest and informal materials that were also practical, flexible and long lasting.
SUPASLAT slatted ceilings contributed greatly to achieving the desired homely atmosphere.
Flexible spaces within the open-plan work areas are adaptable to different and informal work styles. These spaces are both transparent and inclusive, providing malleable formal and casual interaction between staff and visitors alike.
Like the heart of the family home, a large central informal kitchen is the main place where people come together. SUPASLAT slatted panels in white soften the ceiling in this spacious area, and an added acoustic option greatly reduces noise reverberation. The texture of the slats breaks up the vast surface of the ceiling, and the white finish gives the area a light airy feel.