DIY Energy Efficient Homes with ICF's from ZEGO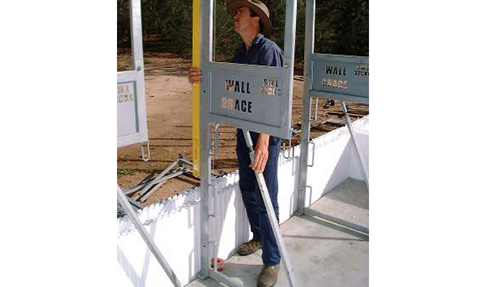 Improving the Building Process with Insulated Concrete Forms (ICF's)
Insulated Concrete Forms (ICF's) are an innovative and proven construction building method. When we think "concrete," we often think "heavyweight, labour intensive and requiring skilled tradesmen." With ICF, this is not the case, as the lightweight foam forms become structural once the concrete is poured; And this is only after the lightweight forms have been built from floor to ceiling with openings left for windows and doors.
The speed of forming the walls significantly reduces as with labour costs with walls going up fast and strong. This is of major benefit versus traditional construction which is affected by adverse weather, material supply delays, and delays by the sub-contractors.
The Expanded Polystyrene (or EPS) used in the forms is so lightweight that a pallet of 7-10m² of formwork can easily be manhandled. Install with only 2 people compared to a team of 6-plus using traditional framing, block work, or brick work.
When building with ICF, a single contractor can co-ordinate the construction of the slab/foundations, forming, framing, insulation and waterproofing, potentially eliminating up to 5 separate trades on site. The foam forms are also easily cut with a hand saw therefore labour can commence even before power is on the site! This makes ICF extremely achievable for the Owner Builder who might otherwise be daunted by tackling a traditional construction project.
Since ICF only requires basic tools, it is the perfect Do-It-Yourself option. It allows builders or building companies to train and use their own teams for installation resulting in significant cost savings. The wall bracing can be hired and therefore no additional items need to be purchased with hidden setup costs.
When construction is complete, not only do you have the structural integrity of reinforced concrete walls but the resulting ICF building or home is much more energy efficient than traditionally built homes, requiring smaller HVAC heating and cooling systems.
The ICF process is easy to learn for first time builders and home builders with the support of qualified and skilled ICF Trainers.
ZEGO Building Systems, a 100% Australian owned and manufactured ICF supplier provides national off-site training in all major cities throughout Australia with experienced on the ground ZEGO installation teams. Check out our website at www.zego.com.au for more information on how to get your project underway, or book online to attend a ZEGO Installation Training Session at a location convenient to you.