Vinyl Noise Barrier Curtain from Pyrotek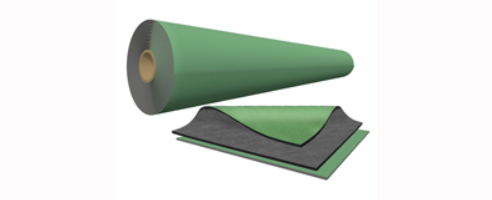 Pyrotek offers Wavebar® Outdoor. Wavebar® Outdoor is a high performance, flexible, tough, mass-loaded vinyl noise barrier curtain offering superior acoustic transmission loss. It was developed to meet market requirements in reducing noise on construction and industrial sites.
To achieve its high performance, Pyrotek engineered Wavebar Outdoor using a tear resistant, high tensile strength tarpaulin base fabric to give added support and weather resistance for both indoor and outdoor applications.
Typically, Outdoor can be designed as partial or complete enclosures around noise sources to reduce noise transference.
Outdoor can also be laminated to Sorberfoam™ or Sorberpoly™ to create a curtain that will reflect and also absorb noise within an enclosure. It can easily be cut and fabricated into various shapes to suit any design or area.
The extraordinary strength of Outdoor provides the versatility to hang or drape in long lengths, with the attachment of velcro seals to create easy accessibility to the enclosure.
Acoustic curtains are especially useful around industrial equipment and building sites, since curtains offer more versatility and economy than rigid installations.
Outdoor products are environmentally safe, contain no ozone depleting substances, and comply with European and Australian standards for Volatile Organic Compound emissions.