DDS - Amadeus 8 Entry Level Solution from CSM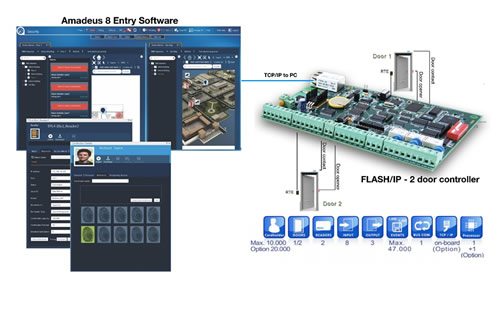 Amadeus 8 is DDS's next generation access control, alarm monitoring and video supervisor. To do your best work, you need a safe and secure environment. We recognize this need and leverage our powerful solutions across projects, big and small, to safeguard your workplace. DDS's industry dominance is based on our vast knowledge and 30+ years of experience in the field of security and applying it to an operator's field activities and software experience.
SOFTWARE SPECIFICATION - AMADEUS 8 ENTRY (FREE)
Access: Manages a cardholder's access points and time authorizations as determined by assigned Access Groups.
Alarm Management: Improves operator situation awareness by providing actionable information, through multiple screens, to resolve a potential security breach.
Suprema Integration: Amadeus 8 supports BioEntry W2 access terminals (more bio reader types are on the way).
Video Integration: Utilizes a model of the Amadeus-linked HikVision® system to realize a CCTV client that is far from passive. An operator can link any camera to a specific tile on the screen.