Power Distribution Project Specifies EJ Pits, Risers and Covers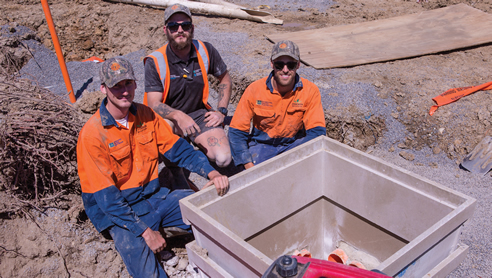 Power to the People: Evergreen Electrical Specs EJ Pits, Risers, Covers
The new Gateway Lifestyle villages at Aspley, Maroochydore and Redland Bay are in the throes of major construction work. Included in the project is extensive electrical reticulation to each and every homesite.
The Evergreen Electrical team has specified EJ for this power distribution project, specifying poly-concrete ELECTROFLO™ pits and risers coupled with ERMATIC™ ductile iron covers. Karl, head electrician on site was complimentary about how well the combination of pits, risers and covers works.
"The ERMATIC™s are good, tough and heavy duty. They don't move when you install them, they just stay there. They're just a quality product", he said.
"ELECTROFLO™ pits and risers are poly-concrete composites so are easier to work with than all concrete ones. Once you set the ELECTROFLO™ pits in gravel, they stay firm and don't move."
Apart from ELECTROFLO™ pits and ERMATIC™ covers, Class B infill covers have also been specified. Karl's preference for these infill covers was based on the fact that they are quality, heavy duty and made to stand the test of time.
But that's true of all EJ products. If you need more information about pits, risers and covers for electrical distribution networks, contact your nearest EJ branch. Or call 07 3216 5000.