Water Management and Access Covers for West Village from EJ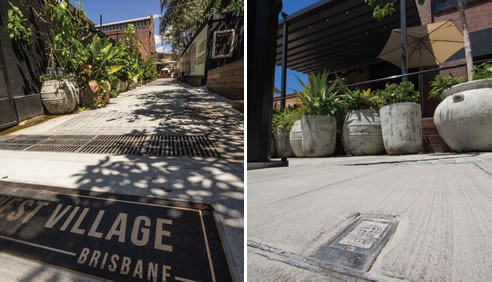 Prelude to an Exciting West Side Story Featuring EJ
West Village in West End, Brisbane is in its preliminary stages of development. It will eventually feature a collection of stunning apartments, new retail, restaurants, entertainment precinct, gym and fitness, plus 5200 sqm of public green space.
In these early stages, EJ product is already making its presence known with ductile iron HEELPROOF™ grates at the new entrance to the Sales Precinct. These transverse grates are hungry for heavy downpours in the storm season but also perform to prevent trapping high heel shoes, pram and bicycle wheels.
In other areas of this expansive development, stainless steel decorative edge concrete infill Class B covers provide easy access to electrical networks. Once again, EJ has provided the ideal solution to not only water containment but also to access to underground infrastructure.
West Village is another progressive gentrification project in the inner suburbs of Brisbane. And it's another place where quality EJ product can be deployed to provide ultimate solutions for water management and access covers. For more information about EJ, please contact your nearest branch or call 07 3216 5000.