Stainless Steel Edged Covers from EJ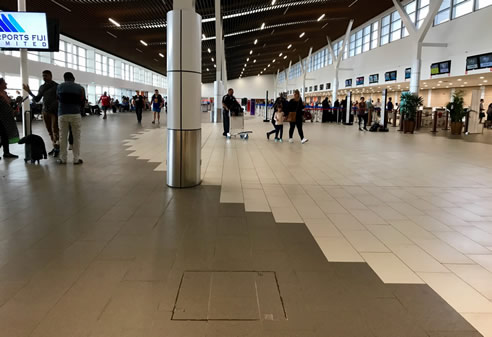 EJ Stainless Steel Edged Covers Big Bula in Fiji
Bula in Fiji means welcome, goodbye and everything in between - even love. EJ is Bula in Fiji big time because of the quality, long lasting, maintenance-free products that appear everywhere when you step off a plane at Nadi airport - especially in the customs hall and main concourse.
Like the 600mm x 600mm Class B stainless steel edged infill covers throughout the internal services areas of this new terminal. They are so precision made that there's never going to be uneven gaps, warping of the frame and rocking of the cover like you can have with cheaper makes.
And see how discreetly they live in the airport precinct - almost invisible in their blended self-tiled infills. Architects appreciate the camo aspect of our infills. Facility management also endorses the non-trip smoothness, no ridges, gaps, protrusions that can cause accidents and subsequent public liability litigation.
And EJ Is big Bula throughout the whole Pacific region, with manhole covers of all kinds in the Solomons and New Zealand's major cities. For more information about these covers which also have the option of brass edges, please contact your nearest branch of EJ or call 07 3216 5000.