Stainless Steel Drainage Channels for Brisbane Square by ACO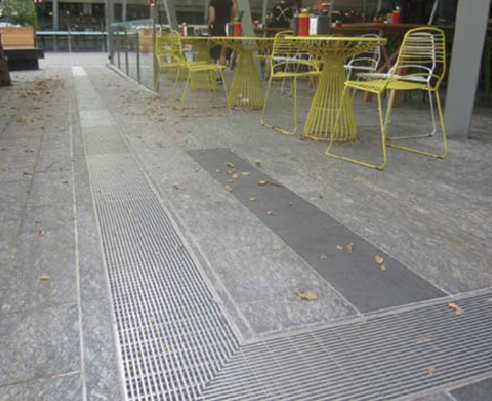 Brisbane Square, 266 George St, Brisbane, QLD
Brisbane Square was originally constructed in 2006 and is an iconic building with premium office space located at the end of the Queen Street Mall in the heart of the Brisbane. The building comprises 38 levels, has views over the Brisbane River, and faces the historic Conrad Treasury Casino on Queen Street plus the Law Courts on Adelaide Street. Brisbane City Council and Brisbane Square Library are located on the ground floor of the building together with cafés and food outlets that open onto the forecourt.
Project Design Brief
New restaurants were recently opened in the forecourt of the building, which is positioned above a bus station. A shallow grated trench drain was required to fit into the suspended concrete slab. The drainage system also needed to efficiently remove the surface water from the flat pavement, be aesthetically pleasing with pedestrian safe grates, and strong enough to withstand vehicular traffic.
System 300 stainless steel channels with 5 Star Heelsafe®Anti-Slip grates.
Benefits
The custom stainless steel channel was manufactured at a depth of 40mm, enabling it to be installed in the topping of the suspended concrete slab.
The 5 Star Heelsafe® Anti-Slip grate met the designers' requirement for a slip resistance rating of P4 AS 4586 and a grate inlet opening of 6mm, safe for high heels.
The stainless steel grates were engineered to withstand heavy wheel loads from service vehicles and trolleys.
Other ACO Products Used
Stainless steel drainage systems.
Cablemate enclosures.
Head over www.acoaus.com.au for more information on stainless steel drainage channels today.