Custom Sloped Channel Drainage for Pools from ACO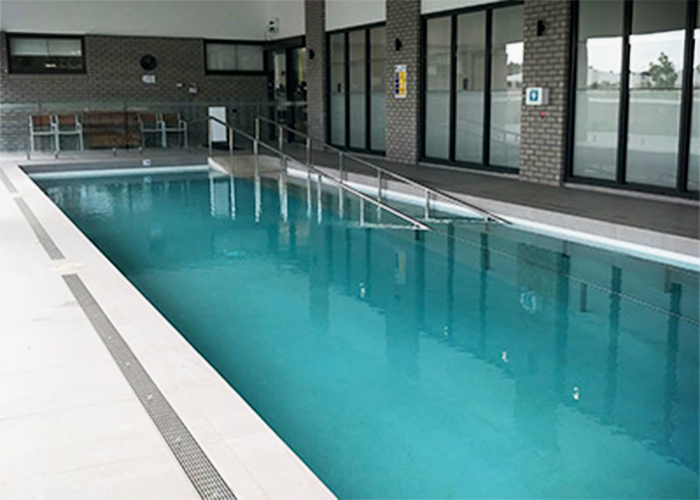 The Village Redcliffe, Brisbane, Queensland
The Village Redcliffe, designed for comfortable and secure living, allows residents the choice of a two or three-bedroom villa depending on their needs. Residents have access to an impressive range of facilities including cafes, swimming pools, gyms, cinemas, bowling greens, libraries, and entertainment areas. Redcliffe is in a suburb just north of Brisbane's CBD, occupying a picturesque position alongside Moreton Bay.
Project Design Brief
For the indoor community pool, designers wanted an effective drainage system to reduce the amount of standing water from residual splashing to minimise slip hazards to residents. The grates were required to be the same slip resistance as the surrounding tiles. Furthermore, an indoor pool environment can be harsh, therefore, designers specified a marine grade channel so pitting corrosion and tea staining could be avoided.
ACO's Solution
System 100 custom sloped channel with Linéaire grates.
ACO's Technical Services was team were able to advise designers how many outlets would be required along the channel run, to ensure there was enough drainage capacity.
Benefits
Channel manufactured in grade 316 stainless steel to provide a high level of durability.
The stainless steel channel had a built-in fall enabling efficient drainage to outlets.
Other ACO Products Used:
For more information regarding Custom Sloped Channel Drainage for Pools from ACO, visit www.acostainless.com.au.