Surface Water & Cable Management of Rail Platforms with ACO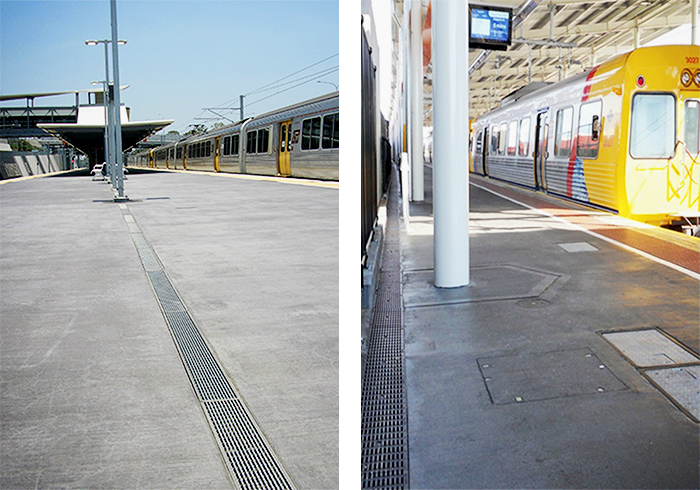 ACO's competency in urban railway platform surface water and cable management
ACO's drainage and cable management products are designed to be seamlessly integrated into urban environments while leaving a minimal footprint. One of the more unique applications for ACO products are railway platforms and adjoining landscaped areas. The combined presence of pedestrians, workmen, station staff, vehicles (trains, cars and buses) presents designers with a number of challenges that need to be overcome. This article provides a summary of these challenges and examples of where ACO products have provided solutions.
Linear Trench Drainage for Platforms
On platforms a flat walking surface is required for safe passage of thousands of commuters yearly. However when there are no gradients, water can easily pool and create puddles during storms. Furthermore, if surfaces are smooth, there could be slip hazards for people. These hazards needed to be addressed at the Richlands Railway Station, part of the Queensland Rail City train network. Whilst harmonising with the requirements of a flat slab, designers required a drain that was long enough to adequately intercept all the surface water along the length of the platform. ACO's KlassikDrain trench drain was therefore specified in combination with Heelsafe® Anti-Slip grates to provide a fully-functional drainage system with adequate slip resistance. To ensure that stormwater, once captured, could flow drain towards the outlets in the trench run, channels were assembled in a sloped configuration.
In contrast, designers of Wayville Train Station, Adelaide needed a compact platform drainage system that could also cope with large volumes of regular passengers, their prams, wheelchairs, and bicycles. This was an example of the successful integration of ACO's compact drainage products in a railway platform where a high number of concealed cables existed. Overcoming these complex requirements, the designers specified ACO's SlabDrain with Iron Intercept Heelsafe® Anti-Slip grates.
Outdoor carparks exist for a great majority of railway stations in Australia. Designers need to consider proper water management, pavement design and suitable drainage products to avoid issues relating to commuter inconvenience, slips and falls and potential legal ramifications.
Service Pits for Cables and Maintenance Access
Integral to the successful operation of any railway-related infrastructure is the appropriate management of cables. Designers are constantly trying to integrate important electrical and communication services without overly impacting on the visual design of the platform. In such a public area, these services must also be protected from unauthorised access.
The designers of the Wolli Creek Railway Station were overseeing extension works that required the inclusion of additional electrical infrastructure. Specifying ACO's Rhinocast® 10-part-multi-part cover and frame system allowed for easy maintenance access while keeping in line with the platform's pavement finishes.
Perth's newly-constructed Butler Station was designed to include a number of communication and data services as well as CCTV cameras for passenger safety. Designers required the inclusion of securable cable pits that were compliant with state public transport regulations. By using ACO's plastic pits fitted with Powerlok® Steel Lids, designers were able to meet these requirements.
If you want to find out more information about how ACO's products have been successfully integrated into railway infrastructure projects, visit www.acodrain.com.au.