Bespoke Hospitality Acoustic Panels from Atkar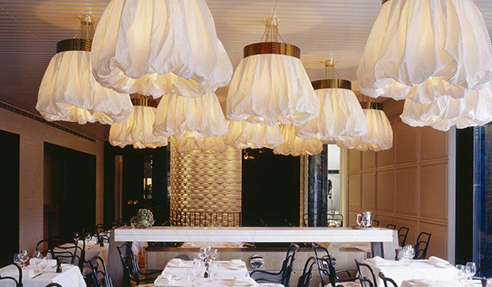 Creating Café Character: How to Design for Hospitality Acoustics
Melbourne's café culture is flourishing. With stylish new venues popping up on almost every corner, newly established businesses face the challenge of standing out from the crowd by providing their customers with more than just a simple latte. Tasked with delivering the perfect ambience to keep customers coming back, smart hospitality professionals are recognising the role of clever design and fit-out.
The exposed brick, concrete floors and high ceilings that have become synonymous with Melbourne's hospitality design language, owe their popularity to the sense of belonging they impart when combined with communal seating and open style kitchens. The inclusive nature of this design approach allows café-goers to feel they are part of the experience rather than simply eating in a sterile environment away from the action.
With these larger, more open, spaces it is vitally important to consider acoustics within your design. The combination of customers talking simultaneously, bustling staff, the front door opening and closing, the coffee grinder and the drama of the kitchen all create reverberation. If this reverberation is not absorbed with the correct acoustic panel solution, then the ambience that you worked so hard to design may not be achieved once your café is up and running.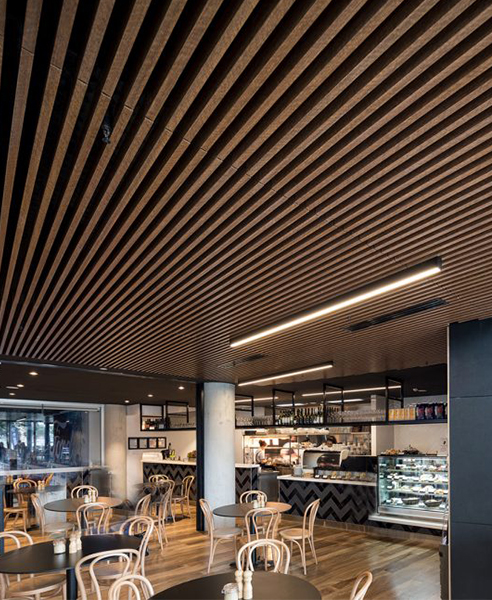 So, how do you know what acoustic solution is right for your project? Although every project is different, this is where Atkar's team of experts can help. With over 70 years of industry experience in all styles of hospitality projects, we have an acoustic panel solution for every project, budget and aesthetic requirement. From function rooms to pubs, restaurants to cafes, Atkar can provide a smart and aesthetically beautiful solution across all kinds of hospitality projects.
We have proudly supplied acoustic solutions and expert advice to Victorian projects like the Corner Hotel, Huntingdale Golf Club, Bocaccio Cellars, Bistro Guillaume, Sporting Globe Restaurant and Portsea Golf Club. Recently, Atkar's team of experts devised acoustic solutions for the café, corporate suites and function room in Geelong's Simonds Stadium. It was a great experience to help to redevelop the stadium into a world-class multi-purpose venue and provide acoustic panels to provide stability while remaining striking to look at.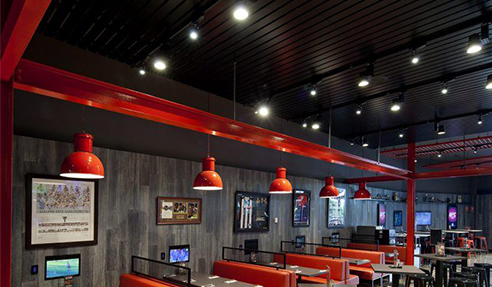 "The beauty of the ceiling panelling is they are made from quality timber, so feature a beautiful natural wood grain. It also achieves excellent acoustic noise reduction. By using Aktar's panels in the brand new Brownlow stand function rooms it added textural depth to the inviting interior and embraces the natural beauty of real timber," says Geelong Cat's General Manager Andre Smaniotto.
Discover more about the bespoke hospitality acoustic panels and services by visiting www.atkar.com.au.