Site protection - a real solution from Monarflex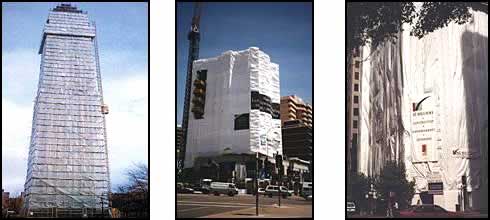 The Protection You Need
From installation to completion, Monarflex provides a fast, reliable protection system that is so tough it is re-usable time after time making Monarflex the most economical sheeting product on the market today.
The Ultimage Choice For Environment Protection
Complete airtight containment makes Monarflex the first choice for any environmentally sensitive project. Whether it is for the removal of lead based paint, other toxic substances or to contain dust and debris on a construction site, Monarflex is the ultimate solution.
The Fastening System The Monarflex fastening systems are fast and simple to use. Eyelets spaced at regular intervals throughout the roll are sealed until used. The fastening accessories are designed to pierce the eyelet and allow the sheeting to be easily secured to the scaffold structure.