Digital Printing for Scaffold Sheeting from Monarflex Australia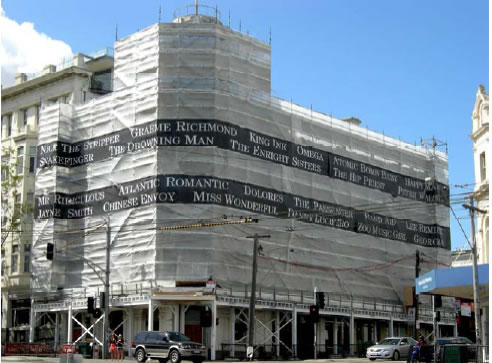 With new advances in printing technology, Monarflex is now able to offer digital printing of any logo or digital image up to 2 metres high and 39 metres long onto any of the Monarflex Flame retardant rolls of scaffold sheeting.
The inks used are rain and UV resistant to ensure images remain true for at least six months. This enables the replication of marketing materials traditionally found in sales offices into a super large format on the construction site scaffolding, which will attract attention.
Features
Full colour images
Any size logo or picture up to 2 mtrs high and 39 mtrs long, printed on a 2m x 45m roll;
Print a combination of digital images and logos on the same roll;
Minimum order quantity is 1 roll;
Cost effective advertising as price includes initial artwork, printing and the roll;
Available on Scaffband Flamesafe and Airflow Flamesafe, which conform to LPS 1215.