RAC Membrane Gas Barrier from Monarflex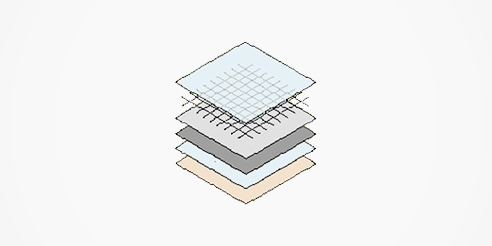 MONARFLEX RAC Membrane is developed specifically for installation on contaminated ground to prevent gases from entering the structure. A well protected aluminium foil serves as an efficient gas barrier and the reinforcement ensures that traffic on the membranes will not lead to puncture. The composition of the membrane with 6 independent layers makes it a perfect gas barrier for projects with rough conditions where the membrane will be exposed to heavy traffic from equipment during installation. Concrete can be poured directly into the membrane.
MONARFLEX RAC Membrane is a specially designed membrane with multiple layers of blown virgin polyethylene (LDPE) film, a reinforced polyester scrim and a 12 micron aluminium layer laminated together by several coater layers to a tough and durable gas membrane. The membrane consists of 6 layers in total ensuring a gas tight membrane with high mechanical properties. The special composition and properties of each layer of the product make a tight and effective barrier to prevent gas from entering houses and buildings to constitute and health hazard for the inhabitants.