Security Fencing Sydney from Australian Security Fencing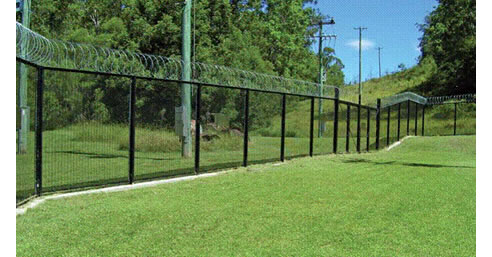 Securemax® 358 Security Fencing
Why Use Securemax® 358 Security Fencing to secure your premises?
Our extensive knowledge and experience within the security industry has helped with the design and development of the Securemax® 358 High Security Mesh Fencing system, otherwise known as 358 or prison mesh. Securemax® 358 provides maximum security for perimeter Security Fence protection. The mesh aperture of 71mm x 9mm manufactured from 4mm diameter wire makes it extremely difficult to penetrate using conventional hand tools, therefore providing a high delay factor. Whilst maintaining a high level of security fencing, Securemax® 358 Security Fencing has a low visual impact on the surrounding environment.
Securemax® 358 Security Fencing for High Security Unique to the system is two additional reinforcement wires located 37.5mm from the edge of each panel. This provides for easy adjustment of panel widths and increased security around the fixings. The finger/toe-proof mesh aperture makes for a totally secure fencing system that's difficult to cut or climb whilst maintaining a clear level of sight through the horizontal aperture from any angle.
Securemax® 358 Security Fencing for a total system This is a total system utilising double C section adjustable posts with specific tamperproof security fixings and clips. Securemax® 358 Security Fencing is available in single or double skin for ultimate protection. All gates and accessories, together with the (EDS) Electric Detection System makes for a total Security Fencing package.
Securemax® 358 Security Fencing Uses
Bridge anti-climb guarding & guard safety screening
Sub-station Security Fencing
Psychiatric hospital security fencing
Prison Security Fencing
Factory Machine guards
Walkway security fencing
Airport security fencing
Securemax® 358 gates
Shipping Port Security fencing
Electrical sub-station fencing
Water Treatment works
Gas pipelines Security Fence
High security window grilles
Balustrades Security Fence
and many other Commercial/Industrial Security Fence uses