High School Security Fencing from Australian Security Fencing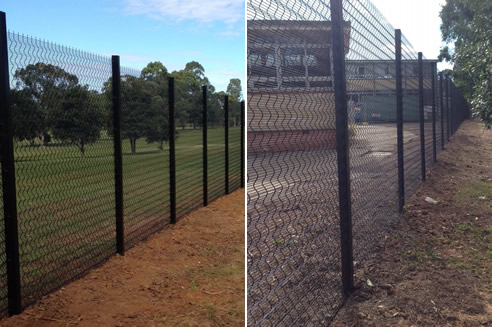 CASE STUDY
PROJECT: CASINO HIGH SCHOOL - SECURITY FENCING
LOCATION: Casino, NSW
PRODUCT: Corromesh®
PROJECT PARTNER: NSW Government, Department of Public Works
Theft, arson and vandalism are ongoing major costs affecting the Department of Education, with schools around the state being targeted.
The impact of these such issues is seen to be affecting not only the department and school principals and teachers, but also students, with interruptions to their learning a result. Casino HS was one such school suffering, with their security fencing not able to do the job required.
Australian Security Fencing P/L (ASF) was awarded the tender for the Security Fencing upgrade works. This involved removal of the existing tubular fencing, which served as a barrier between Casino High School and Casino Golf Course next door, and the installation of 600 metres of Corromesh® High Security Weld Mesh fencing.
ASF employed the services of Fencing Australia P/L for the site install works. Their expertise and knowledge when work-ing for the Department of Public Works and Department of Education was invaluable.
The result is an aesthetically pleasing, safe, security fence that not only keeps the vandals and thieves out but the golf balls as well.