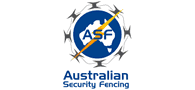 Company Profile
Australian Security Fencing Pty Ltd has well-established design, manufacturing, service and installation divisions. We provide security fencing, mesh fencing and commercial fencing. This makes Australian Security Fencing Pty Ltd a major contributor of security fencing detection systems and physical barriers in Australia. Having been in business since 1988, our experience in perimeter security has provided Australian Security Fencing Pty Ltd management and staff with invaluable hands-on knowledge and the ability to create and understand systems that can deliver all levels of security, intimidation and detection.


Australian Security Fencing's Pty Ltd research, development and testing facilities are imperative aspects when operating under the concept of producing high quality Security Fencing products with results that exceed the client's expectations.

It is this dedication and experience that make Australian Security Fencing's Products, the ultimate choice for your perimeter Security Fencing solution. Our systems are designed and made in Australia. We are proud to be one of only a small number of companies that manufacture security fence detection systems in Australia.

Australian Security Fencing Pty Ltd
02 4577 9633
138 Fairey Rd, South Windsor, NSW, 2756
* If you would like to update the text on your profile page, please contact Spec-Net.