Securemax Mesh Playground Application by Australian Security Fencing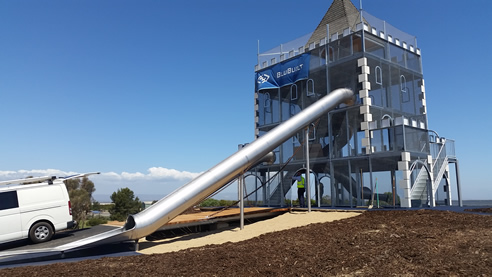 In 2015, Australian Security Fencing Pty Ltd received several enquiries for a security mesh product suitable for use in young children's playgrounds.
From these enquiries Securemax® 338 was developed.
Securemax® 338 retains the same vertical wire spacing's as the original 358 product but horizontal wires have been brought in from 9mm to 6mm. Perfect for keeping the littlest of fingers out!
Not only is the product more child friendly but it is also a stronger, heavier duty mesh then the 338. It is harder to penetrate and cut, has better anti climb properties and is near impossible to pass objects through.
Securemax® 338 allowed the designers to overcome the challenges of producing a steelwork structure that was easily erected with limited onsite welding.
With help from Securemax® 338, The St Kilda Adventure Playground in South Australia is aesthetically pleasing whilst maintaining the safety of the smallest members of the public.